2016 – heute // Interaktive Performance / Mixed Media / Weltecho / Chemnitz / mit Philine Kuhn und Robin Weißbach, 2021 in Kollaboration mit Melo Boerners Installation trigger

see English version below
In Business Up Front Party In The Back klingen die Möglichkeiten verschiedener öffentlicher und privater Räume an, wie Ladengeschäft, Diskothek, Wohnzimmer und Galerieraum. Ein soft space für Kunstgenuss, sich (ver)kleiden, Tanz und auch Passivität.
Star des Abends ist ein ambivalentes Kleidungsstück: Das Sliptop!
Mit wenigen Schnitten wird aus einem Herrenslip (auch) ein Top. Jede*r kann es tragen, oben- oder untenrum. Diese textilen Mischwesen laden dazu ein, die Zwickmühlen des Begehrens zu erkunden. Zunächst industrielles Produkt für den Herrn, wurden die Slips im DIY-Geiste der Aneignung umgearbeitet.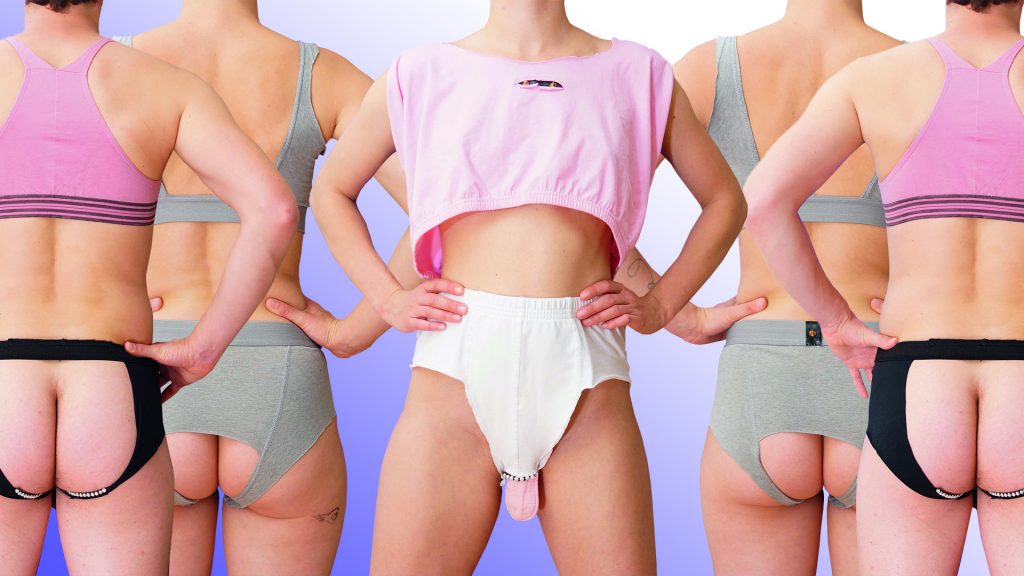 Nun werden sie als Unikate Sliptops dem Markt als Ware wieder zugänglich. Durch ihre Queerness zeugen sie einerseits von einer gesellschaftlichen Öffnung und dem Respekt vor individuellen Vorlieben und Entscheidungen bezüglich Kleidung und Geschlecht. Andererseits scheint die Vermarktung in Warenform Voraussetzung für die Akzeptanz von Abweichungen zu sein.
Die immersive Performance verschmilzt mit Melo Boerners Rauminstallation trigger zu einem surrealen Parcours. Das Begehrenswerte und das Abjekte kreuzen sich und tauschen probeweise die Plätze. Wenn man genau hinsieht, haben die leeren Flaschen ganz schön ausgebuffte Formen. Wenn man nicht so genau hinsieht, dann kann man es sich auf den Matratzen noch gemütlich machen. Wenn man es anprobiert, merkt man, wie es sich anfühlt.
_________________________________________________
Business Up Front Party In The Back // 2016 – ongoing / Interactive Performance / Mixed Media / Weltecho / Chemnitz with Philine Kuhn and Robin Weißbach, 2021 edition in collaboration with Melo Boerner's installation trigger
Business Up Front Party In The Back hints at the possibilities of various public and private spaces, such as a shop, discotheque, living room and gallery. A soft space for enjoying art, dressing up, dancing, consumption as well as for passivity.
The star of the evening is an ambivalent item of clothing: The sliptop!
By just a few cuts, a men's briefs (also) becomes a top. Anyone can wear it, above or below. These textile hybrids invite you to explore the dilemmas of desire. Initially an industrial product for men, the briefs have been reworked in the DIY spirit of appropriation. Now, as unique sliptops, they are once again available on the market as goods.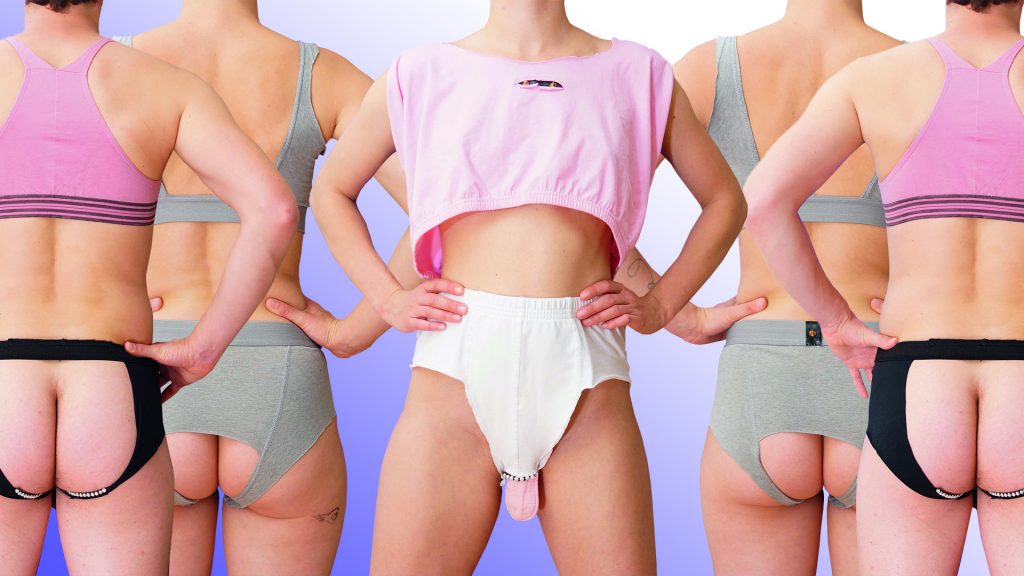 On the one hand, their ambivalence testifies to a social opening and respect for individual preferences and decisions regarding clothing and gender. On the other hand, marketing in the form of goods seems to be a prerequisite for the acceptance of deviations.
The immersive performance merges with Melo Boerner's room installation trigger into a surreal course. The desirable and the abject intersect and tentatively switch places. If you look closely, the empty bottles have pretty savvy shapes. If you don't look too closely, you can still make yourself comfortable on the mattresses. If you try it on, you will know how it feels.